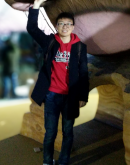 Lin Wang
Ph.D Student
wanglin@kaist.ac.kr
Room #5123,Mechanical Engineering Bldg.@KAIST
-KAIST (Ph.D course in Mechanical Engineering, 2018.08 ~Now)
-KAIST (Ph.D course in Industrial& Systems Engineering and Computer Science, 2017.08~2018.08)
-KAIST (M.S. course in Mechanical Engineering, 2015.8~2017.8)
-Harbin Engineering University(B.S. course in Mechanical Engineering, 2010.9~2014.6)
[1] Simulation and Experiment of TLP Type Offshore Floating Wind Turbine. Hyuncheol Kim, Imgyu Kim, Lin Wang, Soonhung Han† Proceedings of the Society of CAD/CAM Conference, 2016, S25-2, Korea.
[2] Wang L, Kim H, Kim I, Han S. A visual simulation of ocean floating wind power system. Comp Anim Virtual Worlds. 2018; e1859. https://doi.org/10.1002/cav.1859.
[3] Wang, L. & Han, S, Visual simulation of a Capsizing Ship in Stormy Whether Condition, Vis Comput (2018). https://doi.org/10.1007/s00371-018-1579-6.
[4] SwitchCam: Supporting Instant Camera Swtiching, Lin Wang, Jihueok Jang, Uichin Lee, (postor), CHI Korea Local Chapter, 13th April, 2018.
[5] Co-DesignMR: A MR-based system for office workstation design and evaluation supporting multi-user collaboration, Lin Wang, Moritz, Yoon, Kuk-Jin. (Submitted)
[6] S. Mohammad Mostafavi I, Wang L, Ho YS, Yoon KJ. Event-based High Dynamic Range Image and Very High Frame Rate Video Generation using Conditional Generative Adversarial Networks. arXiv preprint arXiv:1811.08230. 2018 Nov 20.
-Research on Event Camera for Visual Intelligence
-KAIST (Ph.D course in Mechanical Engineering, 2018.08 ~Now)

-KAIST (Ph.D course in Industrial& Systems Engineering and Computer Science, 2017.08~2018.08)

-KAIST (M.S. course in Mechanical Engineering, 2015.8~2017.8)

-Harbin Engineering University(B.S. course in Mechanical Engineering, 2010.9~2014.6)

[1] Simulation and Experiment of TLP Type Offshore Floating Wind Turbine. Hyuncheol Kim, Imgyu Kim, Lin Wang, Soonhung Han† Proceedings of the Society of CAD/CAM Conference, 2016, S25-2, Korea.

[2] Wang L, Kim H, Kim I, Han S. A visual simulation of ocean floating wind power system. Comp Anim Virtual Worlds. 2018; e1859. https://doi.org/10.1002/cav.1859.

[3] Wang, L. & Han, S, Visual simulation of a Capsizing Ship in Stormy Whether Condition, Vis Comput (2018). https://doi.org/10.1007/s00371-018-1579-6.

[4] SwitchCam: Supporting Instant Camera Swtiching, Lin Wang, Jihueok Jang, Uichin Lee, (postor), CHI Korea Local Chapter, 13th April, 2018.

[5] Co-DesignMR: A MR-based system for office workstation design and evaluation supporting multi-user collaboration, Lin Wang, Moritz, Yoon, Kuk-Jin. (Submitted)

[6] S. Mohammad Mostafavi I, Wang L, Ho YS, Yoon KJ. Event-based High Dynamic Range Image and Very High Frame Rate Video Generation using Conditional Generative Adversarial Networks. arXiv preprint arXiv:1811.08230. 2018 Nov 20.

-Research on Event Camera for Visual Intelligence